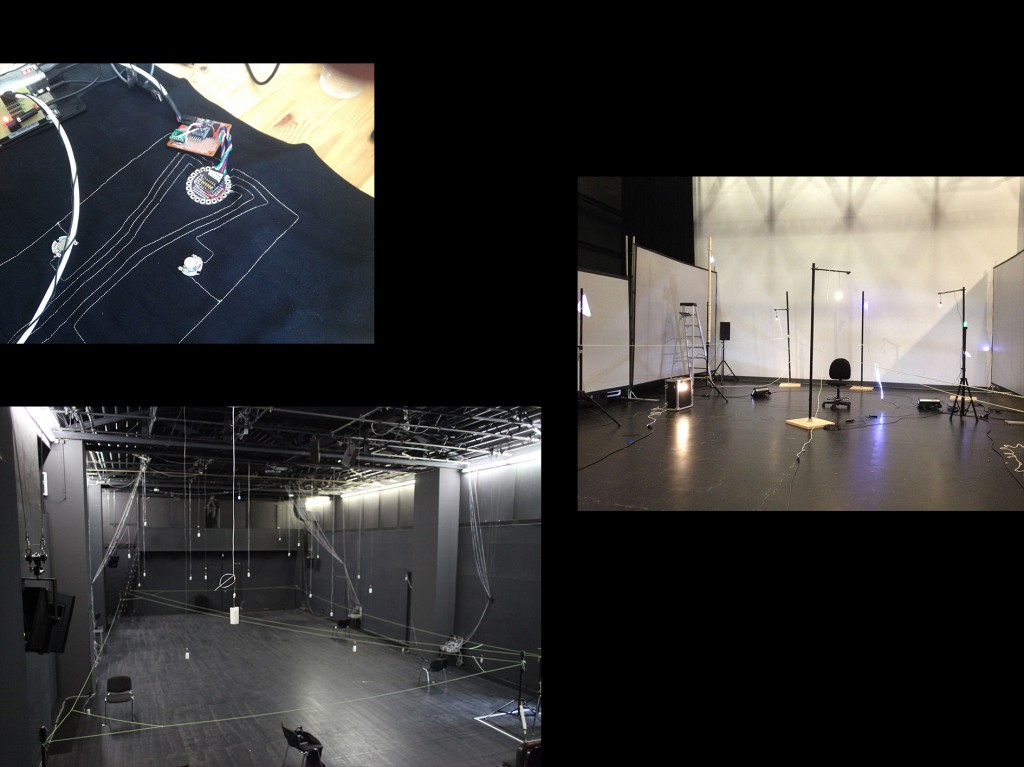 Project Description:
Disequilibrium is an interactive installation that explores the blurring of our senses of vision, touch and sound. Moving through near darkness, a group of 3-6 visitors at a time wears devices that produce touch-like sensations with various levels of pressure across the body. These sense impressions can be shared among visitors by way of wireless communication between the devices. The artwork is directly informed by three core research areas in the emerging field of haptics: wearable, touch­based interfaces, haptic illusions (illusions that exploit the sense of touch) and sensory substitution (the phenomena by which the loss of one sense is "substituted" by another sense).
Our central objective is to create a powerful, polysensory bodily experience that can be physically shared among visitors from an intertwined artistic/scientific standpoint. To accomplish this, the project demands innovative research into small, low cost, low power wireless devices that are easily worn and robust enough to be used in the proposed professional exhibition contexts. Complementing this, we aim to develop techniques for composing for the sense of touch. This requires compositional tools (software and hardware) for fine, high-resolution control of haptic devices so visitors can directly feel just perceivable changes on their bodies and within the environment. These tools should enable a nuanced range of haptic illusions and sensations that go beyond current types of standardization with vibrotactile methods (as found in everyday smartphones or pagers, for example). We intend to explore the compositional relationship between worn haptic devices and a physical space and thus play on the notion of proprioception and implicitness of the sense of touch. These novel modes of control and expression will thus increase aesthetic standards for wearable haptics over current work in task-based applications such as wayfinding and robotic technologies and expand the use of senses beyond vision and hearing in new media arts practice.
Projected Outcomes:
(1). The development of a Canadian/international presentation of Disequilibrium in high profile exhibition contexts.
(2). Contributions to Canadian/international academic conferences in computer music, haptics and engineering (NIME, ICMC, Eurohaptics);
(3). Jointly­ authored publications in both technical and humanities/arts contexts.
---
Artistic Results of Research:
Ilinx
Multi-Sensory Participatory Installation
What happens to our other senses when we lose vision? Ilinx is an immersive installation in which four visitors at a time wear specially designed garments. These wearables are outfitted with various sensing and actuating devices that enable visitors to interface with the performance space. Donning the clothing and visors that blur and distort their sense of sight, the audience enters into a darkened space. At first, they barely see or feel anything, hearing only a metallic, incessant sound in the distance. As the approximately twenty minute event progresses, one starts to feel small and barely noticeable pressure on the skin; touch that seems to move around the body, from the arms to the legs, around the torso and back. Increasingly, the natural continuum between sound and vibration, vision and feeling becomes increasingly blurred as the environment itself appears and vanishes, building in sonic and haptic intensity until it stretches our body's boundaries beyond the realm of everyday sensory experience.
The term Ilinx (Greek for whirlpool) comes from the French sociologist Roger Caillois and describes play that creates a temporary but profound disruption of perception as is common in experiences of vertigo, dizziness, or disorienting changes of speed, direction or the body's sense in space. "…An attempt to momentarily destroy the stability of perception and inflict a kind of voluptuous panic upon an otherwise lucid mind."
Documentation:
Location:
Todays Art Japan, Tokyo, Japan, September 2015
HAU3 / CTM, Berlin, Germany, February 2015
Todays Art, The Hague, September 2014
Technical: Wearable Tactile Display with 30 Embedded Vibrotactile Actuators
The Ilinx garment was designed to allow for the creation of tactile illusions in Ilinx. We worked closely with experts in the creation of wearable electronics to create a system which embeds a total of 30 vibrotactile actuators into the garments arms, legs, and torso.
Our central concerns were that the garment provide a robust and versatile platform for the creation of tactile stimuli while also looking and feeling like a designer garment. In order to achieve this we combined our experience in creating embedded electronic systems with techniques drawn from the wearable electronics community, such as the use of conductive thread and the choice of materials appropriate for garment construction. The garments have been worn by more than 1000 visitors at international art festivals in the Netherlands, Germany, and Japan.
PUBLICATIONS:
"Participation, Interaction, Atmosphere, Projection: New Forms of Technological Agency and Behavior in Recent Scenographic Practice." 2017. In The Routledge Companion to Scenography. Ed. Arnold Aronson. New York/London: Routledge.
Ian Hattwick, Ivan Franco, Marcello Giordano, Deborah Egloff, Valerie Lamontagne, Ian Arawjo, Maurizio Martinucci, Chris Salter, and Marcelo M. Wanderley. 2015. "Compositional Approaches to the Design and Use of A Vibrotactile Garment." In Proceedings of the International Computer Music Conference, 2015, Denton, USA.
Valerie Lamontagne, Ian Hattwick, Marcello Giordano, Ivan Franco, Deborah Egloff, Maurizio Martinucci, Christopher Salter, Marcello Giordano, and Marcelo M. Wanderley. 2015. "The Ilinx Garments: Whole-body tactile experience in a multisensorial art installation." In Proceedings of the International Symposium on Electronic Art, 2015, Vancouver, Canada.
Giordano, M., I. Hattwick, I. Franco, D. Egloff, Emma Frid, V. Lamontagne, TeZ, C. Salter, and M. Wanderley. 2015. "Design and Implementation of a Whole-Body Haptic Suit for "Ilinx", a Multisensory Art Installation." In Proceedings from the 12th International Conference on Sound and Music Computing (SMC-15), Ireland, July 30, 31 and August 1, 2015, vol. 1, pp. 169-175. Maynooth University.
PRESENTATIONS:
"From Sensors to Sensation: The Sensory Turn in Contemporary Art." Leonardo Art/Science/Technology Lecture Series. CAC (Chronus Art Centre). Shanghai, China. July 2016.
"Beyond the (two) Synesthesias." Digital Synesthesia Symposium. University of Applied Arts, Vienna, Austria. March 2016.
"Performing Sensation: Sensory Anthropology, Performance and Immersion Beyond the Eye." Besides the Screen Conference Keynote Address. University of Espirito Santo, Vitoria Brazil and University of Sao Paulo, Sao Paulo, Brazil. November 2015.
"Research-Creation: Theories, Methods, Acts." Connecticut College. New London, CT. October 2015.
Deborah Egloff, "The Ilinx Garments: Whole-body tactile experience in a multisensorial art installation." International Symposium on Electronic Art, 2015, Vancouver, Canada. August 2015.
"Performing Sensation." Centre de Cultura Contemporania de Barcelona (CCCB). December 2014.
OTHER PUBLICATIONS:
N/A
FUNDER:
GRAND NCE Media Artist and Scientist Collaboration Grant
DATES:
2014
COLLABORATORS
Labxmodal (Concordia University) – Chris Salter (PI-Artistic Investigator), TeZ (Maurizo Martinucci), Ian Arawjo,Valerie Lamontagne, Isabelle Campeau, Marie-Eve Lecavalier, Omar Fahleh, Morgan Rauscher
IDMIL (McGill University)
Marcelo Wanderley (Co-PI – Scientific Investigator), Ian Hattwick (Project Lead), Ivan Franco, Marcello Giordano, Deborah Egloff
STATUS:
Completed
---