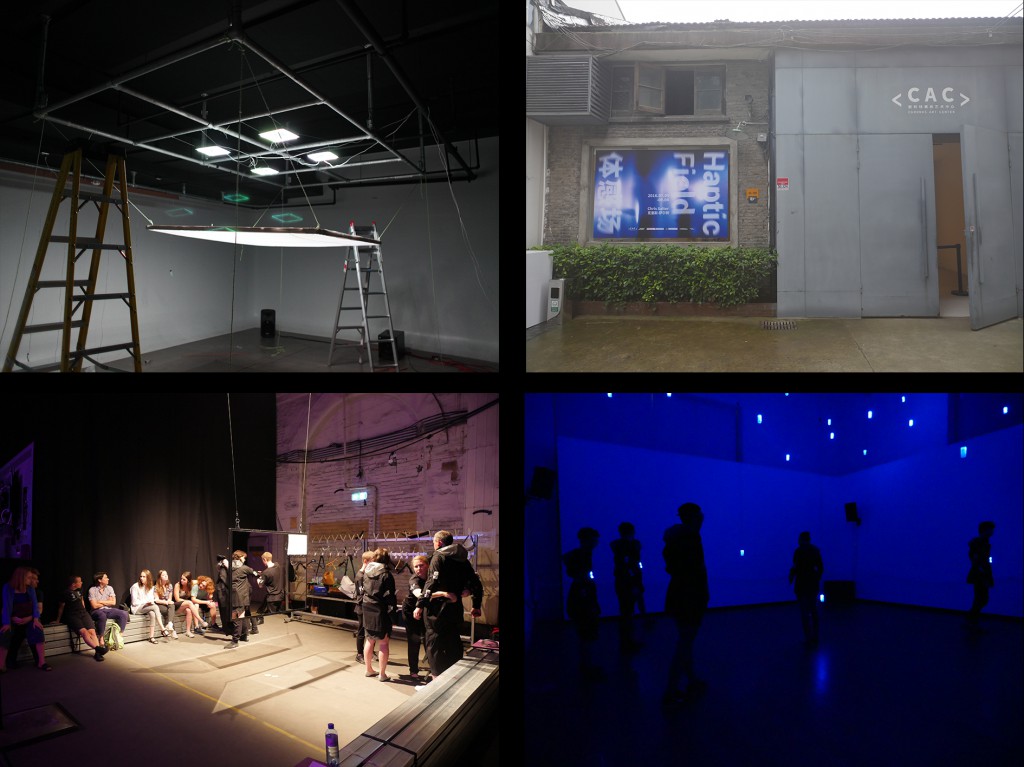 Project Description:
Haptic Fields is an innovative research-creation program that brings together artistic work using new technologies, engineering, music technology and sensory anthropology to explore an overlooked but increasingly important sensory modality in todays audio-visual driven society – the sense of touch.
The program of research is guided by three central questions:
1. Can touch be shared among a group of people distributed in a space?
2. How can cultural, historical and anthropological theories of touch inform technological and artistic development and practice in the burgeoning research area of haptics?
3. How can ethnographic methods from sensory anthropology be used to evaluate participant experience and thereby expand the range of standard engineering, Human Computer Interaction (HCI) and "human factors" approaches for measuring user experience?
These questions will be addressed through an unusual interdisciplinary team of investigators: research-creator Chris Salter; anthropologist David Howes and Marcelo Wanderley, director of CIRMMT McGill and an international expert in the design of new musical interfaces.
Artistically, the project will develop a multi-player/participant game-like performance entitled "Haptic Field." A group of public participants will gather in a large space and put on identical clothing/costumes that are outfitted with haptic devices attached to the clothing. The haptic devices can produce a range of touch-like sensations across the body, from barely perceivable to intense pressure. As the wireless sensing technologies enable all participants to share both sensing and actuation data, the touch-like sense impressions produced on each participant's body can thus move through the crowd, like the equivalent of a wave in a hockey game. At the same time, the participants' bodily response (jerking, shifting balance and similar physical acts) can modulate or change the intensity of touch on their own bodies. These sense impressions can thus be shared among visitors, creating the unique and uncanny sensation of a field of touch moving through and among a group of people.
The project combines three areas of focus: (1) historical/cultural research into the cultural formation and shaping of touch; (2) the artistic / technological development and outcomes informed by the anthropological work and (3) evaluative, qualitative techniques from the anthropology of the senses aimed at evaluating the direct bodily and sensory experience of the participants. The program of research cuts to the heart of research-creation by bringing together embodied practices of artistic production with research techniques and methodologies from the social sciences for both creation and evaluation, and cutting edge work in music technology and haptics.
Projected outcomes include: (1). The development of a Canadian/international presentation of Haptic Field in high profile exhibition context; (2). Robust contribution to Canadian/international academic conferences in computer music, haptics and control engineering (NIME, ICMC, Eurohaptics); (3). Jointly authored publications in both technical and humanities/arts contexts; (4). Development of devices and control software that can be utilized outside of the specific artistic domain (e.g., in rehabilitation context, interactive media and gaming); and (5) a range of questions and directions for future research.
---
Artistic Results of Research:
Haptic Field
Multi-Sensory Participatory Installation
Haptic Field is an extraordinary multi-sensory participatory installation in which touch, vision and sound merge into an overwhelming immersive bodily experience. Up to 18 visitors at a time become part of a bold sensory experiment. First, you put on jackets and jumpsuits designed by the leading Chinese global fashion brand JNBY which integrate wireless sensing and vibrating actuators as well as a pair of goggles that obscure
vision. With the ability to visually navigate and make sense of the world removed, you enter into a hallucinatory, dreamlike environment where nothing is what it seems. Feeling like "being on the moon," or "underwater," your senses begin to blur together. Surrounded by others who feel your presence but cannot see you, you are only guided by enigmatic patterns of vibration that travel around our bodies as
well as vague, shifting glimmers of light. Your sight is blurred as you find yourself in a swirling melting pot of different sensory experiences, in which your customary reliance on vision retreats into the background. Haptic Field creates a space for experiencing and reflecting on tactile perception, one of our least explored senses. We thus experience a disturbing and at the same time uncanny, strange and sensual event which goes beyond the limits of our body.
Documentation:
Location:
Nu-Art, Bandung, Java, Indonesia, July 2018
Muffathalle, Munich, Germany, November 2017
Berliner Festspiele, Martin Gropius Bau/Berlin, Germany, July 2017
Wiener Festwochen, Vienna, Austria, June 2017
Chronus Art Center (CAC), Shanghai, China, July-August 2016
Technical:
The Vibropixels are a modular, easy-to-use system in order to enable a flexible approach to designing tactile displays, whether the goal is to create a small, localized experience or an experience which includes hundreds of simultaneous participants. Each Vibropixel is a self-contained device incorporating two vibrotactile actuators, integrated interactive lighting, and motion sensing. A flexible wireless system makes it easy to work with large numbers of Vibropixels, whether they need to be controlled individually or en masse.
The Vibropixels are a response to the challenges of utilizing whole-body tactile sensations in multimedia artworks. Artists and researchers are increasingly interested in the use of tactile stimuli to enhance multimodal experiences, especially when creating virtual or augmented reality applications, immersive art installations, or tangible computing experiences. However, the creation of high-quality, nuanced tactile stimuli presents a considerable challenge. This is particularly true in some of the most promising applications, which require wearable, distributed, and large-scale systems.
Documentation: Video on Vibropixels
Publications:
"Sharing Data in Collective Interactive Performances: The SenseWorldDataNetwork:" Submitted for 9th Annual Conference in New Interfaces for Musical Expression (NIME 2009), Pittsburg, Pa, USA
Salter, Chris. 2017. "Technologies of Sense: Expanding the Sensorium in the Age(s) of Immersion." Limits of Knowing. Ed. Thomas Oberender and Joanna Petkiewicz. Immersion – Berliner Festspiele. Kerber Verlag. Berlin. June 2017.
Hattwick, Ian, Ivan Franco, and Marcelo M. Wanderley. 2017. "The Vibropixels: A Scalable Wireless Tactile Display System". In Human Interface and the Management of Information: Information, Knowledge and Interaction Design: 19th International Conference, HCI International 2017, Vancouver, BC, Canada, July 9–14, 2017, Proceedings.
Salter, Chris. 2018. "Além da visão: Haptic Field e atmosferas de toque." In Curadoria, Cinema e Outros Modos de Dar a Ver. Ed. Gabriel Menotti. Edufes: Vitória, Brazil. 2018.
Salter, Chris and David Howes. 2018. "The Performance of Sensation." In Emerging Affinities: Possible Futures of Performative Arts. Ed. Mateusz Borowski, Mateusz Chaberski, and Małgorzata Sugiera. Biefeld: Transcript.
Howes, John David. 2018. Senses and Sensation: Critical and Primary Sources. 4 volumes. London: Bloomsbury.
Howes, David. 2018. "The Skinscape: Notes on the Dermalogical Turn." In Body and Society. Special Issue-Skin Matters. Forthcoming.
Presentations:
Salter, Chris. "Artificial Senses-Non Selves." Artificial Imagination Symposium. Artengine. Ottawa, Canada. February 2017.
Keynote. "Immersion: What For?" Virtualities and Realities – RIXC International Art and Science Symposium. Riga, Latvia. October 2017.
Artist Talk/Panel Organizer (Chris Salter, David Howes, Marie-Luise Angerer, Josh Berson). "Beyond the Senses: Bodies, Technology, Environment." "Limits of Knowing." Martin Gropius Bau. Berlin, Germany. July 2017.
"Haptic Field." Seminar talk in "Immersive Arts. Technologie und Praxis immersiver Erfahrung in den Künsten." University of the Arts/ Martin Gropius Bau. Berlin. July 2017.
"New Technologies in Performance." Video presentation for Attakkalari Biennale 2017. Bangalore, India. February 2017.
Artist Talk. HONF (House of Natural Fibres). Yogjakarta, Indonesia. December 2016.
Workshop. "Sensory Technologies for Performance. Shanghai Theater Academy. Shanghai, China. November 2016.
"Participation, Interaction, Atmosphere, Projection: New Forms of Technological Agency and Behavior in Recent Scenographic Practice." Technology and the Transformation of Performance Symposium. Shanghai Theater Academy. Shanghai, China. November 2016.
"Atmospheres of Touch." Symmetries of Touch Symposium. Bauhaus Universität. Weimar, Germany. October 2016.
Workshop Leader (Chris Salter and Ian Hattwick). "Playing with Touch: Haptic Technology and Contemporary Art." CAC (Chronus Art Centre). Shanghai, China. July 2016.
"Disturbance, Translation, Enculturation: A Research Program in New Media, Technology and the Senses." Doshisha University. Kyoto, Japan. April 2016.
Artist Talk. Doshisha Women's College of Liberal Arts. Kyoto, Japan. April 2016.
Other Publications:
"Empfindsame Zonen." 2017. In Auf Tuchfühlung : eine Wissensgeschichte des Tastsinns. Ed. Karin Harrasser. Frankurt: Campus Verlag, 133-148.
Funder:
Fonds de Recherche du Québec-Sociéte et Culture, Appui aux Recherche-Creation.
Dates:
November 2014-November 2017
Collaborators:
Labxmodal (Concordia University)– Chris Salter (PI), Ida Toft, Garrett Lockhart, TeZ (Maurizo Martinucci), Preston Beebe , Nadim Zaidi, Travis McEwen
Centre for Sensory Studies (Concordia University)– David Howes (Co-PI)
IDMIL (McGill University)
Marcelo Wanderley (Co-PI), Ian Hattwick (Project Lead), Ivan Franco, Julian Neri, Alex Nieva, Patrick Ignoto and Louis Fournier
Status:
COMPLETED
---